Our team is made up of fourteen highly trained and friendly professionals:
---
Dr Alison Lockyer – Dentist and Practice Owner
Qualification BDS Edinburgh 1980 (UK) – GDC No. 54140
Alison is the Practice Owner and has worked in general dentistry for over 35 years. She started Number One Dental Practice in 1995 when she moved to Leicester.
Alison's working days at the practice are Monday, Thursday and Friday, when she can offer joint appointments, with our Dental Therapist – Kate.
---

Kate White – Oral Hygiene Therapist
Qualification RDN Dip He Dental Hygiene Therapist (UK) – GDC No. 20163
Kate is the Dental Therapist at the practice, her role is to help you achieve good dental health and maintain your gums and teeth.
A Dental Therapist has all the skills and training of a Dental Hygienist, but can also carry out some dental treatments, such as fillings and taking x-rays.
Kate graduated from Sheffield Dental Hospital in 2011 and joined our practice in April 2012, she has a kind and friendly mannerism which is often complimented, particularly amongst anxious patients.
---

Lesley Trivett – Dentist
Qualification BDS London 1979 (UK) – GDC No. 53778
Lesley is our associate dentist. She started at Number One Dental Practice in 2018.
---

Claire Rushin – Receptionist
Practice Manager
Claire has been at Number One Dental Practice for over 20 years- since it opened. She loves working with people and has been in dentistry for all of her working life; first as a Dental Nurse, she is now personnel manager and part time receptionist.
---
Our Dental Nurses
Donna
Qualification RDN – GDC No. 111562
Donna has been with Number One Dental Practice for 13 years and has built up good relationships with patients past and present. She has undertaken further training to take x-rays and impressions.
Lucy
Qualification RDN – GDC No. 161331
Lucy has been working at Number One Dental Practice for 11 years, her calming nature notably generates confidence in our nervous patients. Also a qualified Oral Health Educator, Lucy can see patients directly to discuss proposed treatments, oral hygiene habits or any concerns about treatments.
(From the left:, Donna, Lucy)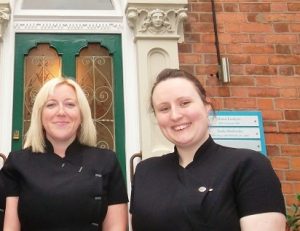 ---

Sheena Kotecha
Dr Sheena Kotecha – Consultant Orthodontist
Qualification FDS (Orth) MPhil MOrth RSC (Edin) PG Cert Med Ed BDS Hons (London)- GDC No. 83698
Sheena is part of the K3 Dental, the specialist division team that is based at Number One Dental. Sheena qualified with honours from Guy's, Kings and St Thomas School of Medicine and Dentistry where she was runner up for the London Gold Medal. She completed specialist training in Orthodontics at Birmingham Dental Hospital in 2011 and did a further two years of training to reach consultant level. She was awarded a clinical prize from the British Orthodontic Society in 2012.
She is currently a Consultant at Birmingham Dental Hospital and University Hospitals North Midlands where she has a significant role in training future orthodontists. Her special interests include the management of missing teeth and adult orthodontics. She focuses on providing patients with high quality care in a friendly and caring manner.
---

Dr Sunny Kotecha– General and Implant Dentist, ST in Prosthodontics
Qualification BDS MJDF RCS(Eng) MSc(Implantology)- GDC No. 150194
Sunny is also part of the K3 Dental team. He graduated in 2008 with distinction in clinical dentistry from the University of Birmingham and has gained extensive experience in various hospital positions in oral surgery, periodontics, prosthodontics and endodontics in addition to general practice. Sunny is a firm believer in continuing education and has obtained his diploma from the Joint Dental Faculties of the Royal College of Surgeons of England in 2011 and a Masters in Dental Implantology from the University of Manchester, where he is now an honorary clinical lecturer. He currently works in general practice and is a specialist prosthodontist in training at King's College, Guy's Hospital London.
Sunny is an active member of the International Team for Implantology (ITi) and is a member of the British Society of Prosthodontics and Restorative Dentistry-UK.
Sunny prides himself in the compassionate, caring ethical manner in which he treats his patients. He accepts referrals for:
Dental Implants
Management of toothwear
Complex crown and bridge work including full mouth rehabilitations
Cosmetic Dentistry
---

Mr Daniel Saund– Consultant in Oral Surgery
Qualification FDS (OS) MSurg Dent MJDF RCS MFGDP (UK) MFDS RCS BDS – GDC No. 80868
Daniel works as part of the K3 Dental team. He qualified from Bristol University in 2002. Since graduating, he has continued to develop his career as a commitment to providing high quality care for his patients.
He has trained at the Royal Shrewsbury, Princess Royal Telford, Queen Elizabeth and Birmingham Dental Hospitals. He has passed his MFGDP, MFDSRCS, MJDFRCS post graduate examinations and successfully completed his specialist registrar training in Oral Surgery.
Mr Saund now teaches oral surgery to undergraduate and postgraduate students, and has widely presented and published on his specialist field both nationally and internationally. He is currently studying to complete his Master of Philosophy thesis and works as a Consultant Oral Surgeon. He places a great emphasis on ensuring his patients remain at ease and are comfortable while undergoing
surgical treatment. Daniel is fully trained to provide treatment under sedation and has extensive experience in the management of nervous patients.
---

Mr Viren Vithlani – Specialist Registrar In Periodontics
BDS (Birm), MFDS RCS (Ed) ST2 MClinDent Perio – GDC MNo. 1134718
Viren graduated from the University of Birmingham in 2007 and has wide breadth of experience from working in general practice, post-graduate training in hospital dentistry and carrying out research to stay at the forefront of dentistry. Following training posts in Oral & Maxillofacial Surgery and Restorative Dentistry, in 2009, he gained membership of faculty of dental surgeons with the Royal College of Surgeons in Edinburgh. He has since completed a Certificate in Cosmetic and Advanced restorative dentistry in London and is also an accredited provider of the Invisalign clear brace system.
He has a particular interest in Periodontology (the prevention and management of gum problems and implants). Alongside his private practice, Viren has worked as a specialty dentist and honorary research fellow at the prestigious Birmingham Dental Hospital managing patients with gum problems, teaching undergraduate dental students and treating patients on a referral basis. His involvement in research has been published internationally. In addition, Viren has since embarked on a fully accredited specialist training programme and currently works at Guy's Hospital in London training. His has a special interest in treating nervous patients with advanced gum disease, cosmetic root coverage for gum recession and regenerative periodontics.
Viren is passionate Periodontics and with his experience in cosmetic and restorative dentistry he is able to use advanced technology and skills to provide only the very best for his patients. He takes pride in providing a caring, relaxed, but professional approach for all his patients. Viren is also passionate about education. He is joint secretary for BDA Coventry & Warwickshire section, an organisation that provides education for other dentists through lectures and represents the British Dental Association for dentists in the county. He is also a founder of the first Pankey Institute Study club for dentists interest in advanced restorative dentistry and providing a patient-centred approach to their practice.
Outside of dentistry, he enjoys playing football, running, climbing and astronomy. He spends a lot of time with his family and trying to keep fit through various sporting activities.
---


Jess – K3 Dental Nurse
Jess is the K3 dental nurse, you will most commonly see her working along side Sheena. Jess's friendly presence is a comfort to patients.
---